Overview
Bangkok is the busiest and the liveliest town of Thailand known for its stupendous gastronomical experiences, glittering nightlife, centuries-old traditions, contrasting lifestyles, and the floating markets. A trip to Bangkok is, hence, incomplete if one fails to visit the bustling corners of its markets.
One such market is the Damnoen Saduak Floating Market that is not only the most vibrant but also the most photogenic. The tour of the market is quite fascinating in itself. There are beautifully decorated long-tail boats that quietly glides down the narrow lanes to take one to the most colorful and main part of the market. One can see several fruit sellers floating in the tapered lanes, oozing out the ever so authentic vibes. A visit to these markets is a must for those who wish to witness the true culture of Thailand.
Suggested for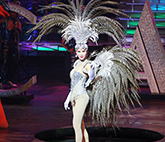 First Timers
Things to Know before you Visit:
1
It is best to visit the market in the morning as the weather remains pleasant and there are lesser crowds as compared to other time periods.
2
Make sure that apart from purchasing things for back home, you try out the local Thai cuisine that is served in this market. It is to die for.
3
When planning to purchase various souvenirs or other goods, try negotiating and bargaining the prices. It is best to have bargaining skills in this market.

Address:
Damnoen Saduak, Damnoen Saduak District, Ratchaburi 70130, Thailand
Phone Number:
+66 (0)87 969 3428

Open Timings:
7 A.M. to 5 P.M. (Daily)
Entry Fees for Kids:
free (below 3 years)
Entry Fees for Adults:
700 THB