Overview
Surrounded by mysterious history and magnificent views alike, the Tiger Cave Temple is one of the most popular destinations in Krabi. Accessible only to those willing to conquer a grueling flight of 1237 stars, the grandeur of the temple, combined with 360-degree panoramic views of lush green beauty surrounding the limestone structure is well worth the effort.
The temple is blessed with views of the Andaman Sea, vast expanses of tropical rainforests, and otherworldly natural limestone formations. Truly a prime example of the fusion of natural beauty and man-made marvels, Tiger Cave Temple, locally known as Wat Tham Sua, is a spiritual destination that is bound to make you feel at peace, despite the challenge involved in reaching the temple.
Suggested for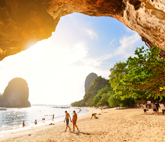 Young Adults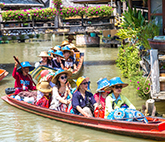 Families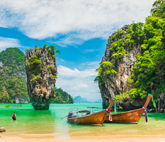 First-Time Visitors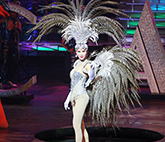 Fitness Enthusiasts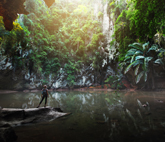 Nature Lovers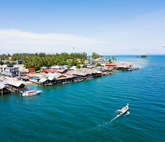 Photography Enthusiasts
Things to Know before you Visit:
1
It is best to schedule your trip to the Tiger Cave Temple either early in the morning, or some time in the evening. Days can get pretty hot in Krabi and climbing 1200+ stairs under an unforgiving sun can be potentially dangerous.
2
There are little to no provisions to purchase water or snacks at the temple. It is advisable to prepare accordingly.
3
The temple is home to a number of monkeys that have grown used to the presence of humans. Beware of them and maintain your distance. It is also recommended to leave behind valuables like jewelry and sunglasses as there is a good chance that a monkey will try to snatch them.


Open Timings:
8:00 AM - 5:00 PM
Entry Fees:
Free