From sun-soaked islands and tantalizing dishes to majestic temples and revered martial arts—every journey here becomes a cherished memory for wanderers. A traveler's dream come true!
Best time to Travel
November to April is the best time to visit Thailand.
Currency
The currency of Thailand is the Baht, with an exchange rate of approximately 31 Baht to 1 USD.
Thailand Honeymoon Packages
Tied the knot with the love of your life and are searching for a perfect place for an exotic honeymoon?. Think no more, book our romantic Thailand Honeymoon Packages, pack your bags, and explore the romantic places and atmosphere of Thailand with your better-half.
When starting their new life, couples wish to visit a place where they can peacefully spend some time in each other's company. Thailand offers you this and more. Thailand is nothing short of the 'Venice of the East'. The gorgeous landscape offers a perfect fairytale setting for your honeymoon. Not only you spend quality time relaxing at the famous beach resorts, but can also explore the beautiful attractions the place has to offer.
It is a very interesting destination, if you had your fill of relaxation then you can challenge yourself by indulging in various water sports from paragliding, parasailing, jet-skiing, banana boat rides, and more.
Our Thailand honeymoon packages include a romantic evening on a cruise, treat yourself to famous Thai cuisine and Thai massages, and have fun like never before enjoying the famous Thailand nightlife.
We have found Packages for you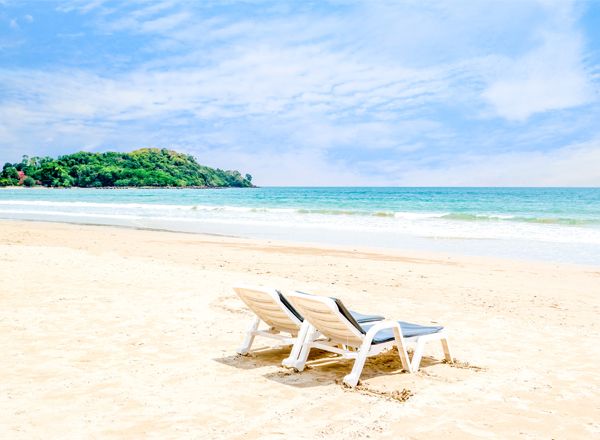 04 Nights / 05 Days
Exortic Honeymoon in Thailand
Price

Available
Only

on Request
Hotel Stay
Flights
Sightseeing
Cab Transfer
Meals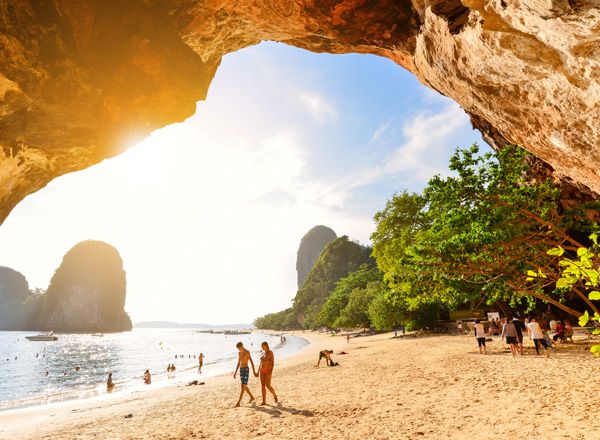 04 Nights / 05 Days
Budget Honeymoon Package in Thailand
Price

Available
Only

on Request
Hotel Stay
Flights
Sightseeing
Cab Transfer
Meals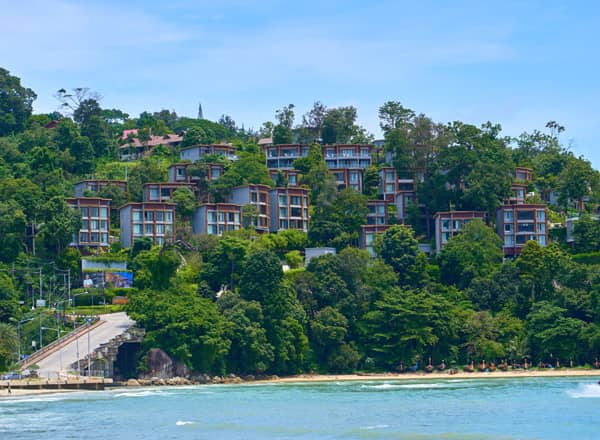 04 Nights / 05 Days
Love for Phuket
Price

Available
Only

on Request
Hotel Stay
Flights
Sightseeing
Cab Transfer
Meals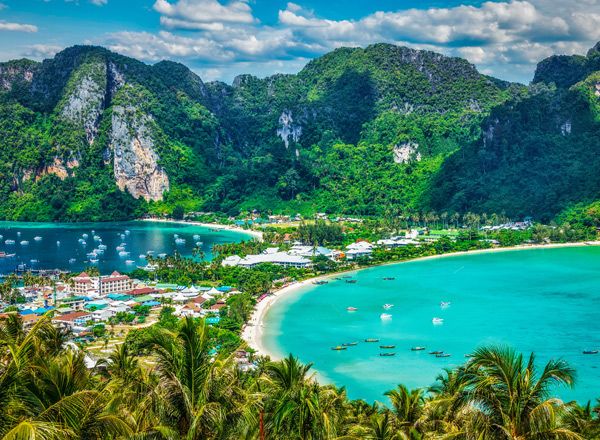 05 Nights / 06 Days
Make love in Phuket and krabi
Price

Available
Only

on Request
Hotel Stay
Flights
Sightseeing
Cab Transfer
Meals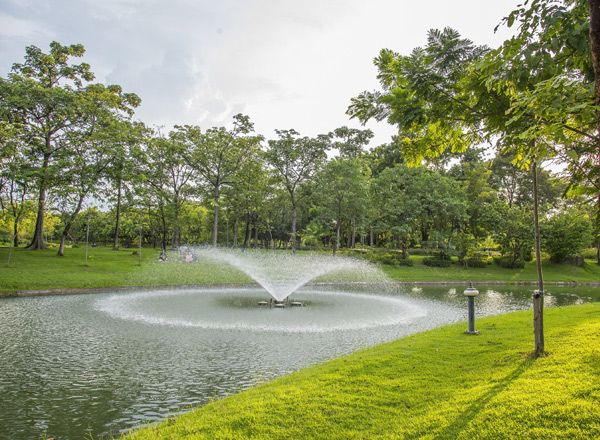 04 Nights / 05 Days
Love in Bangkok Pattaya
Price

Available
Only

on Request
Hotel Stay
Flights
Sightseeing
Cab Transfer
Meals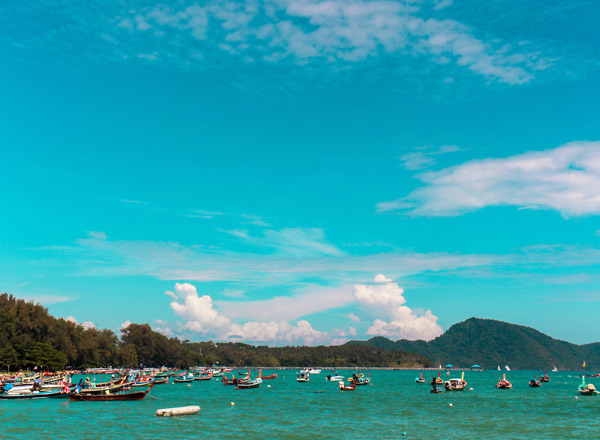 04 Nights / 05 Days
Overloaded Love for Phuket
Price

Available
Only

on Request
Hotel Stay
Flights
Sightseeing
Cab Transfer
Meals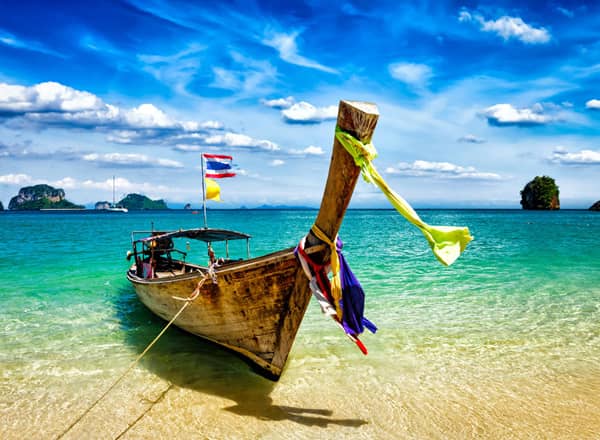 06 Nights / 07 Days
Special Honeymoon Delight in Phuket & krabi
Price

Available
Only

on Request
Hotel Stay
Flights
Sightseeing
Cab Transfer
Meals
Most Romantic Honeymoon Places in Thailand
If you are a couple on your honeymoon, you are surely in search of some of the beautiful places that can inspire romance. Thailand with its tropical setting and picturesque landscape has an abundance of romantic places that honeymooners will die to visit. Here is a sneak peek into the top five romantic places in Thailand which we highly recommend to our clients in our Thailand honeymoon packages.
Phuket- Romance is in the air in Phuket. The palm-fringed coastline and crystal-clear beaches. Nothing can be more romantic than folding your partner's hand talking a long peaceful stroll down the beach as the sun sets at the horizon. You can take island tours, party at night, watch the famous lady-boy shows, and pamper yourself to couple massages.
Suggested Read: Phuket Honeymoon Packages
Krabi- The group of 130 secluded islands is an ideal place to visit with your partner on your honeymoon. The place is a paradise with caves, coral reefs, and stunning sunsets. The beautiful landscape is sure to inspire love and romance. The islands have plenty of romantic and luxurious stay options. Couples can take boat tours and enjoy the classic candlelight dinners on shores. We have special Thailand honeymoon packages for Krabi which you can explore here.
Suggested Read: Krabi Honeymoon Packages
Koh Samui- If you want to swing to the sound of good music with your partner in your arms, then Koh Samui is the place to be. The place has some of the most kick-ass full-moon beach parties. The couples can visit the Big Buddha and seek its blessing, have fun in the Namuang Waterfalls, and visit Ang Thong National Marine Park.
Suggested Read: Koh Samui Honeymoon Packages
Hua Hin- The place is ideal for honeymoon couples on a budget. Couples can shop in the night market, visit Khao Sam Roi Yot National Park to see the unique sandstone caves.
Chiang Mai- The high range of mountains and tribal villages are one of the most beautiful places to visit in Thailand. The greenery here is in abundance, the hill view is breathtaking, and the place offers the quiet and secluded setting perfect for a honeymoon.
Suggested Read: Chiang Mai Honeymoon Packages
Why book Thailand Honeymoon Packages with Thailand Tourism
It would be an understatement to say honeymoons are important for the newly wedded couples. While on your honeymoon you would want to spend more time with your beloved rather than worry want travels and hotel bookings. Thailand Tourism has been organizing honeymoon tours for years and knows how precious this alone time is for couples. We do our level best to ensure the couples not only have a comfortable time while on their honeymoon but also get to try new things and miss out on nothing exciting. We can curate the perfect itinerary for you that will include all the romantic places and also exciting activities that couples love to try together. We can also customize our Thailand Honeymoon Packages to meet your needs. We take care of everything, travels, hotel booking, sightseeing, and more and offer you the best deals that would be hard to find online.
Thailand Honeymoon Packages FAQ's

Suggest some must-visit places in Thailand on a honeymoon?
Thailand is an excellent honeymoon destination. It's embellished with exotic beaches, astounding monuments, and welcoming culture which makes it an ideal location to celebrate budding love. Thailand has some awe-striking attraction that you must-visit with your better half while you are on your honeymoon:
1. CORAL ISLAND - With crystal clear water combined with copious coral reefs, and exquisite stretches of fine white sand, Coral Island (Koh Larn) could be a classical paradise. A visit to the coral island is a must as it's a great way to escape the hustle and bustle of city life. Here you could indulge in water sports like snorkeling, parasailing, scuba diving, and whatnot. This island is a perfect getaway for couples who want to spend a day in peace.
2. UNDERWATER WORLD - This unique water aquarium gives you the chance to experience the sea-world from close. You could get acquainted with marine life by walking through the acrylic tunnel which exhibits some of the rare marine species. If you are not a fan of snorkeling and still want to taste the slice of the deep ocean this place is perfect for you. This 100-meter Acrylic tunnel incorporates around 2500 marine animals with sharks, turtles, bamboo sharks, starfish, lobsters, and many more. The reef tank showcases vibrant reefs, corals, and also the mutuality of submarine plants, anemones, and fishes. Apart from the Marine Museum section, Live feeding shows are also attention gainer and a lot of fun.
3. PHI-PHI ISLAND - Koh Phi Phi is the hub for party freaks and peace-seekers. Being the loveliest island in southeast Asia grabs a lot of attention from couples who want to spend a day at ease. This island is filled with nightclubs, pubs, bars, and drinks. You could also just sit by the shore and take pleasure in the amazing scenery at night. It mostly gets lightened up with a lot of lights. It exhibits some of the most breathtaking sunsets that will instantly make your evening unforgettable.
4. SURF HOUSE - Do you love surfing but are afraid of those long waves. This surfing house will give you an incredible experience of surfing. If you are an adrenaline junkie just get on that surfboard. The artificial waves are generated just to make people experience the thrill of surfing. All precautions are taken care of through. This non-stop fun activity with trendy music and authentic food and booze will surely make your evening perfect.
5. JAMES BOND ISLAND - As the name suggests, this island gained popularity from James bond's movie "The Man With Golden Gun" in 1974 that covered the beauty of this island in the most magnificent way. This narrow island is officially called Tapu. This is a must-visit beach if you are visiting Phuket. The entire area around this island is breath-taking. It's an ideal destination if you want to get lost in the hidden caves which look extremely spectacular. In order to reach here, board a ferry from Phuket to James Bond Island ferry. You could rent a long tail boat in Phuket to reach Phang Nga Bay.
6. ART IN PARADISE - This museum is bombarded with arts that will give you an artistic experience. It has numerous exhibits that are fun to click pictures with. From taking a minimum of two hours you could have an exhilarating experience. The 3D paintings and surreal art are marvelous. Filled with illusions and art of various types this museum will surely make your eyes turn. The museum has been divided into sections just to ease up your experience which includes the underwater world, wildlife area, classic art, ancient Egypt, Surreal art, and the dinosaur zone.
7. WALKING STREET - This beach-side street is always the busiest one. Being piled up with a lot of Go-Go bars, Discos, and clubs this street is perfect if you want to spend your night partying. The most interesting thing about this street is the flogged neon lights and unstoppable entertainment. You could spend an entire week walking here. With your loved one you could walk this street hand in hand and explore some of the amazing performances in any of the clubs that keep on playing the whole night. You will also witness Thailand's infamous ladyboys dressed in dazzling clothes and some spectacular performances by the street artists who keep on playing on the road.
8. SRIRACHA TIGER ZOO - This amazing entertainment zoo is a perfect place to add to your list. The zoo has been divided into four parts -: tiger breeding zone, talent show zone, crocodile zone, and animal zone. You could have a close-up experience with both baby and adult tigers. You could feed them from your own hands in the Tiger feeding Room where you could easily interact with these cute friendly cubs. You could also get acquainted with some rare wild animals.
9. THE ROYAL GRAND PALACE - If you are in Bangkok you can't afford to miss this picturesque great old Dame which is famous for its spectacular and bewitching architecture. This majestic palace will leave you jaw-dropped for its creativity and distinctiveness. If you are visiting Thailand but haven't seen the Royal Grand Palace, then you haven't visited Thailand completely. The Wat Phra Kaew grabs the attention as it is considered the most pious Buddhist Shrine, which is one of the most sacred places of Thailand. There are some important things that must be kept in mind while visiting ROYAL GRAND PALACE. You need to wear full clothes and avoid sleeveless and tank tops. Carry a bag and food with you as you won't get any in the temple.
10. ALCAZAR CABARET SHOW - This infamous ladyboy show is a glamorous entertainment show which will make you stuck to your seats. This extravagant glittery dance and entertainment show takes place in one of the most famous theatres in Thailand by Pattaya second road. The fresh and dazzling performances will make your evening memorable. The ticket could cost you around 600-700 Baht depending on the seat you choose. VIP seats tend to be more costly.
Suggest some of your best honeymoon packages?
We endeavor to curate one of the most affordable and flexible packages to make your honeymoon days a little sweeter. Here are some of our bestsellers:
1. FULLY LOADED HONEYMOON - In this 9D/8N fully loaded package you will get a chance to:
Explore Phuket, Krabi, and Bangkok all in 8 nights.
Cruise dinner at Chao Phraya River.
Adventure drive into safari world
Sea Lion show, Hollywood cowboy stunt show, Dolphin show, Spy War Live Action Stunt Spectacular, and much more.
Experience the "City of Angels" , the biggest pure Gold Statue of Buddha, Wat Benja, and a plethora of temples.
Candlelight dinner in Krabi
Explore the 7 most luxurious Krabi islands.
Visit the 'Three Beaches Kata Noi, Kata, Karon, and Koh Pu Island that are situated at one of the island's best scenic spots.
Couple Thai massage
Enjoy an electrifying night at Bangla street or attend a full moon party on Pattaya Beach.
Explore Phi Phi islands and indulge in water sports.
2. LOVEBIRDS HONEYMOON SPECIAL - This 6N/7D package offers a perfect getaway for couples. This package offers you:
Chance to explore Krabi and Phuket.
3 nights in Krabi and 3 nights in Phuket.
Adventure drive into safari world
Thai massage for couple and Candlelight dinner.
Krabi- 7 island sunset tour.
Krabi city tour, explore the monuments, temples, and a lot of astounding places.
Phuket city tour.
James Island tour.
Enjoy an electrifying night at Bangla street or attend a full moon party on Pattaya Beach.
3. FALL IN LOVE HONEYMOON SPECIAL - In this 6N/7D package, you get an opportunity to explore this amazing city with your loved one. Our best seller offers you:
Spend 2N in Phuket, 2N in Krabi, 2N in Bangkok.
Phuket city tour and a Couple Thai massages.
Visit the 'Three Beaches Kata Noi, Kata, Karon, and Koh Pu Island that are situated at one of the island's best scenic spots.
Enjoy an electrifying night at Bangla street or attend a full moon party on Pattaya Beach.
Explore Phi Phi islands and indulge in water sports.
Krabi city tour with a candlelight dinner at Krabi island.
Explore the 7 most luxurious Krabi islands.
Cruise dinner at Chao Phraya River.
What are the romantic things to do in Thailand?
Thailand is an exquisite place to visit with your loved one where you could explore the underwater life, Have a romantic lunch on a beach, and above all explore this fabulous city with your lover hand-in-hand. Here are some of our suggestions :
Explore Bangkok city on a cruise.
Walk hand-in-hand on the Walking street.
Pamper yourself with a relaxing Thai Spa.
Watch dazzling night shows at the Theatre.
Attend the Full Moon beach party on a weekend.
Indulge in water sports like parasailing, Kitesurfing, Snorkeling, Scuba diving, and a lot more.
Candle Light dinner on a rooftop bar.
Elephant trekking is an Elephant sanctuary and explores the jungles of Thailand.
Visit James Bond Island and Maya Bay famous for being showcased in Hollywood movies.
Spend a peaceful day by exploring Thailand's spectacular and calming temples.
Relish on Thai cuisine
Suggest some Romantic islands for Couples on their Honeymoon?
Thailand has a plethora of islands that will make you fall in love with them. Here are some of the best Romantic islands you must visit on your honeymoon:
1. PHI PHI ISLAND - Imagine an evening in the middle of secluded caves and turquoise water. As astounding as it sounds this is one of the best ways to explore the untamed and untouched part of Phi Phi island. The underwater scenery, reefs, and caves are unmatched. Phi-Phi is a hub of some exotic marine species which are mind-blogging
2. JAMES BOND ISLAND - Locally known as "Khao Phing Kan". This island is very famous amongst tourists after it got featured in a bond movie. Several tourists from all over the world visit this island just to pose in front of the needle-shaped cliff in a classic bond pose. It's worth one visit. You could reach here through a speedboat.
3. KOH SAMUI - This luxurious island is a hub of polished beaches, exotic locations, and fancy clubs. Being the second-largest island it offers a wide range of activities and fun that you could have. The untouched beauty of this island will make you fall in love with it. The palm trees swaying in the sun while taking a dip in the crystal clear water surrounded by exotic aquatic life.
4. KRABI ISLAND - Krabi island incorporates 200 islands of which many are small coast islands while some are uninhabited with untouched beaches. You won't see these islands flogged with tourists as they are usually calm and serene. You could go snorkeling on this island as the superb coral reefs will leave you astonished.
5. PHUKET ISLAND - Phuket has abundant stunning beaches and islands. With sandy- beaches, exotic islands, turquoise water gushing towards the shore, picturesque landscape with authentic Thai food. This surreal destination offers a wide range of beaches that will make you spellbound.
6. KOH TAO - Koh Tao offers one of the best and pocket-friendly experiences. The Underwater landscape will leave you astounded. You could dive in, touch the vibrant fishes. whale sharks and leopard sharks are the highlights of this island. you could watch sharks or even get a chance to touch them.
Suggest some best viewpoints to click some Romantic pictures?
Thailand has some breathtaking viewpoints from where you could get a panoramic view of this island plus you could click some Instagram worthy picture to show-off amongst your friends:
1. KATA VIEWPOINT - From here you could get an amazing view of Kata Noi, Kata, and Karon beach. These Three-bays from the hill look mesmerizing. You could reach here via a tuk-tuk or your rented bike as the road is quite steep. This is the only place from where you can get "The Phuket Viewpoint".
2. WAT PHRA THAT SOI SUTHEP - The view from this temple is extremely marvelous. You could easily reach this viewpoint via taxi and you could witness this amazing city beneath your feet which will surely leave you stunned. Arrive late here around the time of sunset and you could capture the sky changing colors and click some amazing pictures too.
3. PHUKET BIG BUDDHA - This 45-meter statue located in the Southern Part of Phuket. This statue wouldn't only leave you astonished but the view of Chalong Bay and Phang Nga Bay will also give you a chance to experience a slice of Phuket's beauty through this viewpoint.
4. WIND TURBINE VIEWPOINT - Located on the south of Phuket Island. This viewpoint gives you a 360 view of Nai Harn Beach and Ya Nui Beach. The striking part of this viewpoint is the Windmills visible from the hilltop.
5. DOI INTHANON NATIONAL PARK - The easiest viewpoint to reach, you don't have to be a mountaineer to reach here. Being known as "The Roof of Thailand" this national park is a part of the Himalayan range with the highest peak of 2,565 meters above sea level. The park experiences cold weather and humidity all year round.
6. KHAO NGON NAK VIEWPOINT - The jutting rock at the summit of Dragon chest Island is an ideal place to sit and have a panoramic view of Krabi island from a height of around 565 meters above sea level. You could sit in this place for hours and witness mesmerizing weather at dawn with the sky changing colors simultaneously.
SUGGEST SOME PLACES TO VISIT AT NIGHT?
Night is the most romantic time of the day and Thailand is known for its nightlife. Tourists from all over the world visit Thailand to experience the zeal and excitement of this amazing city.
1. EVENING ON CRUISE - Witness the ocean and the sunset with stunning scenery. The setting of the sun with a myriad exquisite shade of dusk will be breathtaking. Have an awesome evening in the heart of the ocean which will make your evening a memorable one.
2. PANORAMIC VIEW WITH DINNER - Not everyone loves partying, some like to just admire the beauty of the city. A 360-degree restaurant is an ideal place for such people. Here you could just sit on the rooftop restaurant under the stars amidst the whole town. There are a bunch of restaurants that are famous for their breathtaking view and authentic food. You could enjoy the sunset with the astounding view of the city.
3. PARTY AT POOL PARTIES - Thailand hosts one of the best parties in the world. The electrifying music, a foamed pool, the lively crowd will make your evening fabulous. You will surely have an exhilarating experience that you will never forget.
4. ROMANTIC DINNER ON A BEACH - Thailand is bombarded with luxurious private-beach restaurants that excel in serving some mouth-savoring Thai cuisine to enjoy with your loved one. You could book a romantic beach-side table from where you could admire the exquisite beauty of the sunset with savoring Thai food and your loved one sitting next to you.
5. WITNESS GLAMOROUS LADYBOY SHOWS - The infamous ladyboy shows like the Alcazar show are famous for their glittery and glamorous presentation of Thai culture and tradition. This is a combination of dazzling clothing, superb acts, energetic performances that bring you dances from different countries around the world.
6. THAI MASSAGE - You might be tired of all the traveling and exploring why to spend another night just wandering around when you can just relax and get an ayurvedic massage and release all your tiredness. They use their tender fingers and palms to stretch every part of your body. You just have to lay down and let the masseuse do their magic.
Do you arrange anything special for honeymoon couples?
We endeavor to deliver the best of hospitality to all our customers and especially honeymoon couples. This is all included in our package :
1. We arrange candlelight dinner, honeymoon cake, and special honeymoon tours on request for honeymoon couples.
2. we set up your romantic room by decorating it with beautiful flowers.
3. A special couple of Thai massage for you and your other half to relax together.
What will be the average cost of the honeymoon package?
Cost of honeymoon package depends on :
Your destination
Number of days you are planning to stay
Places you would like to cover in your itinerary.
Type of hotel you choose.
The month you are planning to visit
Can you book a Thailand honeymoon package with a flight?
Yes, we surely can. we can book a package that will include your flights, accommodation, a private SIV, hotel bookings, visa arrangements, sightseeing, and airport transfers.
How many days are enough in Thailand?
A 6-7 day trip is enough if you are planning to explore the real beauty of Thailand by covering Bangkok, Krabi and Phuket which will involve covering one of the best locations. Our packages have been curated to give you the best experience throughout your stay and make your trip memorable. Here are some of our packages:
1. FULLY LOADED HONEYMOON (9D/8N)
2. FALL IN LOVE HONEYMOON SPECIAL(7D/6N)
Which destinations are the best for a honeymoon in Thailand?
We highly recommend Phuket and Krabi for Honeymoon couples. These islands are famous for their exotic beaches and Dazzling nightlife. With sandy- beaches, exotic islands, turquoise water gushing towards the shore, picturesque landscape with authentic Thai food. These surreal destinations offer a wide range of beaches that will leave you spellbound.
What type of hotels/resorts do you suggest for honeymoon couples?
Thailand is a tourist destination all-year-round and they have a wide range of hotel/resort selections. The properties in Thailand offer a reasonable, luxurious, and hustle-free experience. The resort/hotel incorporates almost every possible necessity and luxury to make your stay worthwhile. The 4-star and 5-star properties will give you a luxurious experience but are a bit expensive whereas if you wanna go for a pocket-friendly reasonable stay try looking for 3-star resorts/hotels.