Thailand needs no introduction when it comes to being a food paradise for all foodies. People all around the world are introduced to Thai food in the form of curries. But, the cuisine has so much more to it. Exotic flavors and sample preparation techniques are two of the most prominent characteristic of Thai cuisine. 
One of the major attractions in the country happens to be its irresistible street food. The appetizing aroma of the food fills up your senses as you wander through the country's street markets. There are budget street food eateries around every corner of the street. Treating yourself to some authentic Thai food when in the country should be at the top of your 'Things To Do List'. 
Thai Cuisine is famous not just in the country but all around the world. The exotic flavors and subtle perfection is hard to get anywhere else. When in Thailand you mustn't let go of the opportunity to indulge in some authentic and classic Thai dishes. 
Here is a list of delicious top 20 must-try Thai dishes when in the country- 
Suggested Read: Places To Visit in Thailand, Best Time To Visit Thailand & Things To Do in Thailand
1. Phat Si-io
Noodles are one of the most popular street food items in Thailand. Phat Si-io means fried noodles with soy sauce. The dish is quite similar to the famous South-Asian dish Char Kway Teow. 
The dish is made from Soy sauce, both light and dark, flat rice noodles, broccoli, egg, meat, shrimp, and a mixed variety of seafood. You would taste the influence of Chinese cooking in the dish. 
The dish is popular in all Thai restaurants. You can treat yourself to some delicious Phat Si-io at Took Lae Dee in Bangkok.
2. Char Kway Teow
A popular South-Asian dish, Char Kway Teow is commonly known as Stir-fried rice cake. It is made up of flat rice noodles, dark soy sauce, green chilies, prawns, cockles, Chinese Chives, fishcake, bean sprouts, and many other ingredients.
Traditionally the dish is served on a banana leaf. It was originally sold by fishermen to labors. The dish is popular not only in Asian countries but also outside Asia like in Australia and New Zealand. As the dish gained popularity many versions of the dish have come to light. It is traditionally made in pork fat but the vegetarian varieties of the dishes are available which might not even include egg.
Yaowarat Road in Bangkok is one of the best places to try some delicious Char Kway Teow.
3. Tom Yum
A popular hot and sour soup in Thailand. The soup contains spicy and sour flavors and is prepared with shrimps. Fresh herbs, species, lemongrass, galangal, fish sauce, lime juice, red chili, pepper, kaffir lime leaves are used to prepare the soup.
The soup can also be prepared with meats like chicken, beef, shrimp, or pork. The dish is a favorite among both locals and tourists. Peer Aor Tom Yum Goong Noodles in Bangkok is one of the best places to try Tom Yum soup.
4. Tom Kha Kai
Tom Kha Kai is another famous Thai soup. It is made up of coconut and chicken. The soup is made using authentic Thai ingredients that include coconut milk, fresh ginger, fish sauce, lemongrass, chili paste, lime juice, cilantro, and basil.
The soup is easy to prepare and tastes best after it has rested for a couple of hours. The rich flavors and the secret red curry paste elevates the simple dish to a whole new level. The creamy and tangy taste is delicious. Tom Khai Kai is one of the must-try dishes in Thailand. You can try some at Nalin Kitchen, Charoenkrung Road, Bangkok.
5. Som Tam
A popular Green Papaya salad. It is deliciously spicy and sour. It contains unripe papaya, sour lime, savory fish sauce, hot chili, and palm sugar. The salad is popular throughout South Asia. It was listed under World's 50 Most delicious foods in both 2011 and 2018 by CNN Go.
Som Tam is a traditional Lao dish and is served in almost all restaurants in Thailand. It contains eggplant, dried shrimps, tomatoes, garlic, and lime. Som Tam is also popular street food. You can try some delicious Som Tam in Chatuchak Weekend Market.
The dish is healthy and is low in calories. La Deng in Bangkok is one of the favorite restaurants of local Thais to treat themselves to some delicious Som Tam.
6. Yum Talay
Yum Talay is a deliciously tangy and sour Thai seafood salad. It is bound to be the ultimate favorite of every seafood lover. The salad has an interesting mix of flavors.
Yum Talay is prepared with fresh seafood, cilantro, mint, lime juice, fish sauce, dry chilis, different herbs, tamarind concentrate, and chili paste. 'Yum' means mixing several ingredients and 'Talay' means sea.
Yum Talay is served on a bed of lettuce with seasonal vegetables. The fine taste of the salad depends on the freshness of ingredients. Pattaya Beer Garden is an open restaurant that is known to serve delicious Yum Talay. Bangkok too has several fine seafood restaurants that serve some really good Yum Talay.
7. Gaeng Daeng
Gaeng Daeng is the Thai name for the popular Red Thai curry. Thai curries are famous all around the world. Gaeng Daeng is made from the famous red curry paste, coconut milk, meat like chicken, pork, duck, and shrimp. For vegetarians, it is made with tofu.
The red color of the paste of curry comes from red spur chilies. It is seasoned with chili peppers, galangal, shallots, shrimp paste, garlic, coriander roots, cumin seeds, lemongrass, kaffir lime leaves, and peppercorns.
The red curry is delicious and a top favorite among overseas tourists.
8. Pad Thai
Pad Thai is another famous street food in Thailand. The rice noodles are stir-fried and made with scrambled eggs, tofu, tamarind pulp, dried shrimp, fish sauce, grabs, chicken, squid, shallots, garlic, palm sugar, chili pepper, and sometimes peanuts. The ingredients are all sauteed together in a pad thai sauce.
Pad Thai also has vegetables like sprouts, radishes, turnips, garlic, and banana flowers. The freshness of the ingredients is what makes the dish more delicious. The dish is popular in Thai restaurants. It retains the tangy and spicy taste that is characteristic of Thai cuisine.
When in Bangkok you must try the Pad Thai at Baan Phadthai in Silom. The restaurant uses the traditional recipe of Pad Thai which is delicious.
9. Khao Kluk Kapi
Khao Pad is a popular Thai fried rice. The dish is cooked with chicken or pork in shrimp paste. Traditionally the dish was cooked with catfish.
The dish has a fine balance of salty, sweet, spicy, and sour. Khao Kluk Kapi is usually served with finely chopped green mangos, chilis, omelet, cucumber, shrimps, and shallots.
Khao Kluk Kapi Niyngow in Bangkok is one of the finest places to enjoy some nice Khao Kluk Kapi.
10. Pad Phuk Tong
One of the most popular vegetarian dishes in Thailand. The dish is made by stir-frying pumpkins. It is served with rice and you can also eat it with eggs.
Pad Phuk Tong is a simple dish but is popular as street food and in restaurants
11. Pad Krapow Moo Saap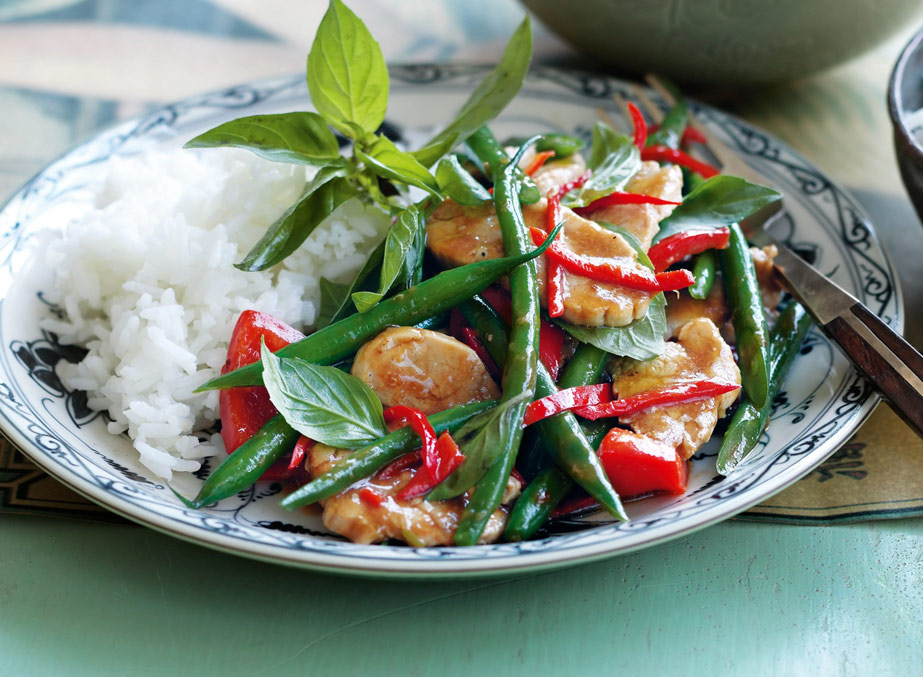 A popular Thai street food. Pork is stir-fried with garlic, ginger, chili pepper, lime, soy sauce, and a little sugar. The dish has a characteristic sour and spicy taste. The dish can be served with fried basil, green beans, steamed rice, and topped with a fried egg.
The street stalls in Bangkok and Phuket are popular for its Pad Krapow Moo Saap. Forget Me Not in Pathum Wan District and Ratcha Bar 32 Bar & Restaurant in Chatuchak, Bangkok is two of the places popular for serving extraordinary Pad Krapow Moo Saap.
12. Gaeng Keow Wan Gai
The famous Thai Green Curry. There is a reason why Thai curries are famous all over the world. Devouring this curry when in Thailand will help you know the reason why. The curry is packed with flavors. It can be prepared with chicken, any other kind of meat, fish, or even tofu.
The dish is one of the most popular dishes on the menu in almost every popular Thai restaurant. The curry is usually fiery hot with a tinge of sweetness. The curry paste which is one of the most important ingredients of the curry is made up of the spicy Thai chili pepper.
Krua Apsron, Sra Bua, and the Cabbage and Condoms in Bangkok are popular for serving the best Thai curry in the whole of Thailand.
13. Kai Jeow
One of the best Thai breakfast dishes. The omelet is prepared with chilis in fish sauce and oil. The omelet is served on top of steamed rice and is covered in sweet chili sauce. It is one of the best things to have before going sightseeing. Kai Jeow is neither too heavy nor too light and has the perfect amount of carbs to keep you going till lunchtime.
14. Guay Teow Moo
One of the most popular street food in Thailand. The dish is prepared in a delicious broth with red pork and noodles, sprouts, and bok choy.
Sukhothai Noodles in Chiang Mai is known to serve the most delicious Guay Teow Moo in Thailand. The restaurant is just opposite Art in Paradise and offers a fine indulgence of delicious dishes to its customers.
15. Banana Pancake
One of the most popular dishes in Thailand's food markets. You will find the pancake quite different from the American pancakes. The Thai pancakes have banana inside the dough which is then folded or rolled like the French. The dough is fried and served sugar toppings, condensed milk, sugar toppings, or chocolate.
Chiang Mai has some of the best Banana Pancake, you can enjoy the dish in the street markets or visit the restaurant Nature's Way in Moon Muang Road.
16. Pad Krapow
The dish comprises of stir-fried minced meat like pork or chicken that is served with rice. The meat in the dish is fried with chilis and basil. The dish is loved by spice lovers.
You can also tune down the spicy level according to your preference. For those who love spicy flavors, this dish is heaven with amazing flavors that will set your taste buds on fire. Raan Jay Fai is one of the best places in Bangkok to eat some delicious Pad Krapow.
17. Kai Med Ma Muang
Moist chicken is stir-fried with cashew nuts. The dish is colorful to look at and is equally delicious to eat. The chicken and nuts give contrasting texture to the dish which makes it a top favorite in Thai cuisine. The chicken is sauteed with onions, peppers, chili, mushrooms, carrots, and has a dash of sweetness in the form of honey.
You can enjoy the dish in the street food market or any fine Thai restaurant. You are sure to fall in love with the dish.
18. Panang
Panang is a type of red Thai curry. The curry is thick, tastes sweet and salty, and has a nutty-peanut flavor. The curry paste is made with chili, peppers, lemongrass, cumin, coriander, garlic, shrimp paste, peanuts, and kaffir lime. The curry is contained meat or vegetables for vegetarians. The meat is cut into strips and has coconut milk, fish sauce, curry paste, and palm sugar.
19. Kluay Tod
A popular snack in Thailand. Kluay Tod is made with ripe bananas dipped in flour and stir-fried till it turns crispy. The dish has a fine balance of sweetness and crunchiness. The dish is an ideal dessert and can be munched on when exploring the street markets.
20. Homok Talay
Spicy fish mousse is one of the most popular delicacies in Thailand. The dish is served on a banana leaf and comprises of fish, vegetables, and curry spices. The mousse is strong in flavours and is steamed with the leaves of Bai Chaploo, a local plant.