Overview
For those who seek a laid-back, leisurely vacation, Krabi is your answer. One of the famous destinations for a vacation in Thailand, Krabi is a province that offers impeccable views to travelers. The long stretches of shimmering white sands, swaying palm trees, and turquoise waters give one an opportunity to enjoy their beach holiday to the fullest. Krabi has plenty to offer that you should not miss out on. Find below the Krabi City tour for a day that covers all the nooks.
Suggested for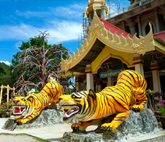 Sr Citizen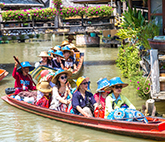 Families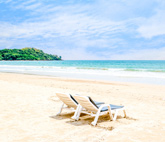 Couples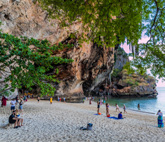 Friends
Places to cover:
1
Tiger Cave Temple: Start the Krabi city tour with one of the most iconic landmarks to give your day a much-needed kickstart. Head to Wat Tam Sue aka Tiger Cave Temple that is nestled amidst several hundred-year-old trees and mighty mountains. This temple is famed for not only being an extraordinary meditation center but also a center of interest for history aficionados. There are numerous monks worshipping and residing in the maze of naturally formed caves. This temple is based on the ancient teachings from the Buddhist texts and has walls covered in peculiar photos of cadavers and internal organs that help monks focus. The catch of this temple is that it is located atop 1,272 steps up a limestone tower which can be a little difficult for some.
2
Khao Kanap Nam: After some fitness activity of hiking and soaking in the beauty of the Andaman Sea from up top is the time to depart for Krabi Town and visit the 'Khao Kanap Nam'. This is one of the major parts of the panoramic landscape of Krabi. This is a pair of limestone outcrops that are about a hundred meter high and stand proudly on either side of the river in Krabi. The stunning views from here leaves the jaws dropped.
3
Ao Nam Mao Outdoor Aquarium: If you are one of the wildlife lovers, the next stop will leave you in awe. After witnessing the scenic vistas of Krabi. It is time to behold the beauty of the underwater world at the Krabi Aquarium. Also named as the Ao Nam Mao Outdoor Aquarium, this place is heaven on earth for the little ones. This aquarium boasts about the breeding of the endangered species in the nearby saltwater lakes. Ao Nam Mao blankets an observation deck that showcases the views of several large pools housing various marine species.
4
Krabi Sea Shell Fossil Beach: The tour is not yet over. Now comes the most interesting spot for those with historical and archaeological interests. The next stop is Krabi Sea Shell Fossil Beach which is famed for being home to fossils from about 40 million years ago. The present-day day landmass at Susan Hoi was once a large freshwater swamp. One can find rock slabs covering the floors of this beach which totally makes it a photographic landscape.
5
Leisurely activities: After roaming around such impeccable treasures of the city comes the time to enjoy some relaxed and leisurely activities. The next stop would be to enjoy some mouth-watering delicacies. There are several hundreds of cafes and eateries that offer the authentic Thai-style lunch for one to indulge in. For next and last stop, head to the local market in Krabi to enjoy splurging on some street food, 'I Love Krabi' tees, handbags, and much more.

Pick up time:
10 AM
Drop Time:
2 PM
Entry fees for Child:
THB 1000
Entry fees for Adults:
THB 1200