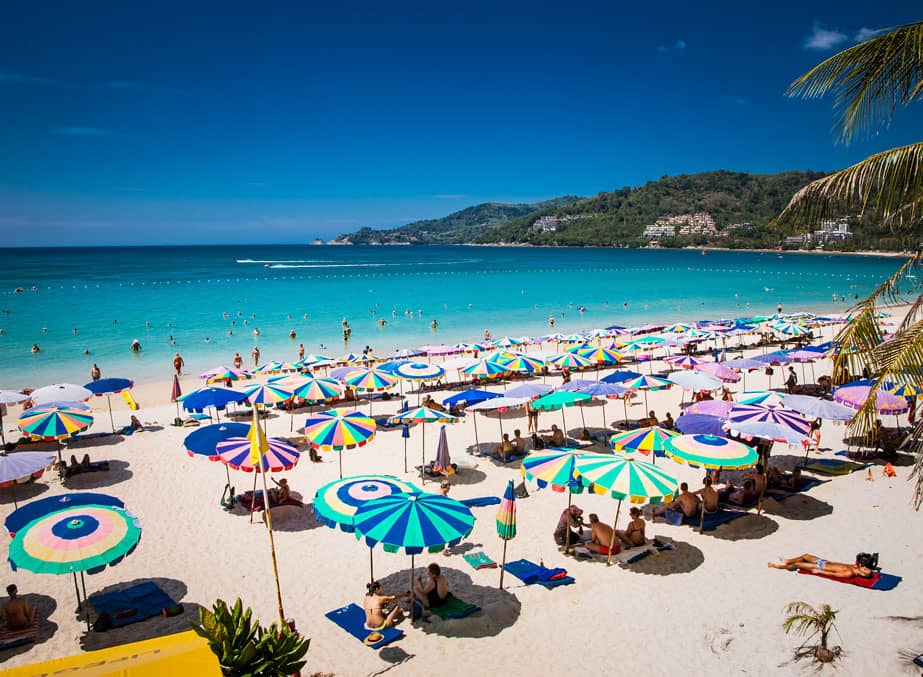 Famed for being the finest beach destination in the entire world, Phuket boasts its glittering white sands, azure waters, lush green swaying palm trees, and the lively hustle of towns. From architectural marvels reeking of colonial vibes to islands full of locals who are humble as ever, Phuket is a destination like no other. Offering something for every kind of traveler - solo to thrill-seekers, Phuket in March is truly paradisiacal. Be it pleasant weather for engaging in adventuresome water sports or indulging in the Thai cuisine with an exceptional blend of spices, strolling around the awe-inspiring museums or exploring the national parks, Phuket is action-packed. Take a look at this guide to make sure you do not miss out on anything extraordinary when traveling to Phuket!
Weather In Phuket In March
Phuket in March is as beautiful as it can get and more. With the skies so clear and the sun shining brightly right above the head; this destination welcomes spring with arms wide open. The wind remains gentle, temperatures hover around 29 degrees Celsius, and the sunsets are nothing less than perfect. Calm sea and pleasant temperature of waters make March an idyllic time to engage in various water-based activities. Thus, attracting an extensive number of travelers to pay a visit to the beach destination of Thailand.
Top Places To Visit In Phuket In March
Phuket is a destination that has plenty to offer. Here are the top places that one should not miss out on when planning a vacation in Phuket in March.
Phi Phi Islands

A significant part of the massive Andaman Sea, Phi Phi is one of the most picturesque islands that leaves the jaws dropped. Home to waters with various hues of Cyan, Phi Phi Islands is a magnet for honeymooners and couples on romantic getaways by virtue of the vibes it reeks of. Apart from offering the mesmerizing views formed by rugged hills and white-sand shores, Phi Phi also gives one a chance to be a part of numerous water sports including snorkeling, swimming, and diving. Phi Phi Islands are a must-visit if one wishes to experience the true Phuketian holiday.

Patong Beach

When planning to visit Phuket in March, one should make sure to add the most happening beaches of this destination in their itinerary. The vibrancy and dynamic bustle that one can experience on the golden sands of this beach are unmatchable. Blanketing a plethora of shacks, cafes, and pubs that serve some of the most delectable delicacies, a visit to Patong Beach is an experience to remember. This beach offers ample enthralling water sports such as parasailing, jet-skiing, and more; thus satiating the thrill-seeking souls of travelers.

Koh Panyee

For those who seek to get an insight into the traditional Thai culture when in Phuket, Koh Panyee is the answer. It is a quaint, little village that gives one a chance to witness the true lifestyle of Thailand. Koh Panyee is floating in the heart of Phang Nga Bay and is home to the descendants of Toh Baboo as well as his family, who were the first people to create a settlement in this village some odd 200 years ago. This small island is home to some beautiful limestone cliffs and has developed over the years, blanketing mosques, schools, souvenir shops, restaurants in the present day. It is one of the must-visit attractions of Phuket to witness the simplicity and humbleness of locals here.
Top Things To Do In Phuket In March
There are never-ending experiences hidden in the lap of Phuket. Take a look at the top picks of things that one should not miss out on their escape!
Marvel At The Old-World Charm Of The Town

The Old Phuket Town offers a fine concoction of old-world structures with the contemporary lifestyle. Visiting Phuket in March gives one a chance to stroll around this town at the utmost comfort and soak in the beauty of architectural marvels that showcases a mind-blowing blend of Chinese and colonial styles. Apart from taking a walk and embracing the vivaciousness of the busy streets, one can also engage in some shopping from the local markets.

Try The Thai Spa

When in Thailand, especially on a honeymoon, trying a Thai Spa is certainly a must. Offering an unmatchable experience to travelers, Phuket is home to numerous spas that ooze of opulence and revitalization from every nook. Just walk into your choice of spa, and get ready to get lost in the ecstasy of various aromas encircling the structure. From foot massages to Thai traditional massages, there is no dearth of the variety offered in Phuket.

Engage In Island Hopping

A trip to Phuket is incomplete without paying a visit to all the islands sitting in and around Phuket. There is a myriad of stunning islands that surround Phuket that offers a perfect escape for those who seek solitude. Located far away from all the hustle and bustle of city life, the island in and around Phuket are nothing less than exotic and blissful. Choose the favorites, hop on a boat, and just cruise breezily from one remarkable island to another.
Places To Stay In Phuket In March
Phuket is a location for everyone even though it is often regarded as just a perfect honeymoon destination. The extensive variety of accommodation options that spoil guests with choices is proof of that. From budget-friendly to ultra-lavish, there is no dearth of variety of stays in Phuket. Although March is one of the best months to visit Phuket, the prices during this season are pretty nominal, thus catering to every pocket.
Some of the best areas to book a hotel in Phuket are Patong Beach, Phuket Old Town, and Bang Tao. All of these areas have something for everyone from hostels for solo backpackers and boutique hotels for families to luxury stay for honeymooners!
How To Reach Phuket
The most picturesque beach destination in the world, Phuket is very well-connected with all the major parts of the world. The quickest and the most feasible mode of transport to reach Phuket is by taking an airplane. Phuket does not have any direct trains that connect it to other cities. Although, this destination can be reached from other parts of Thailand by road.
By Air: Phuket is home to one of the busiest international airports of Thailand that connect international and domestic flights well. The Phuket International Airport allows daily flights from Bangkok to fly in and out of the town easily. India, Germany, Australia, Singapore, and Malaysia are a few of the many countries that are directly connected to Phuket by air mode of transport.
By Road: One can board a bus from various other areas of Thailand including Bangkok, Surat Thani, Krabi, and Phang Na. Thailand has a well-linked road network that makes traveling between the cities more convenient and budget-friendly. There are air-conditioned and non-air conditioned buses easily available, pertaining to every kind of pockets.
Phuket in March is heaven on earth. The favorable weather, opportunity to engage in water sports, drool-worthy cuisine, remarkable experiences, and some of the most breathtakingly beautiful attractions is what makes Phuket what it is. Phuket has emerged as one of the most popular destinations amidst tourists and purely for all the right reasons!