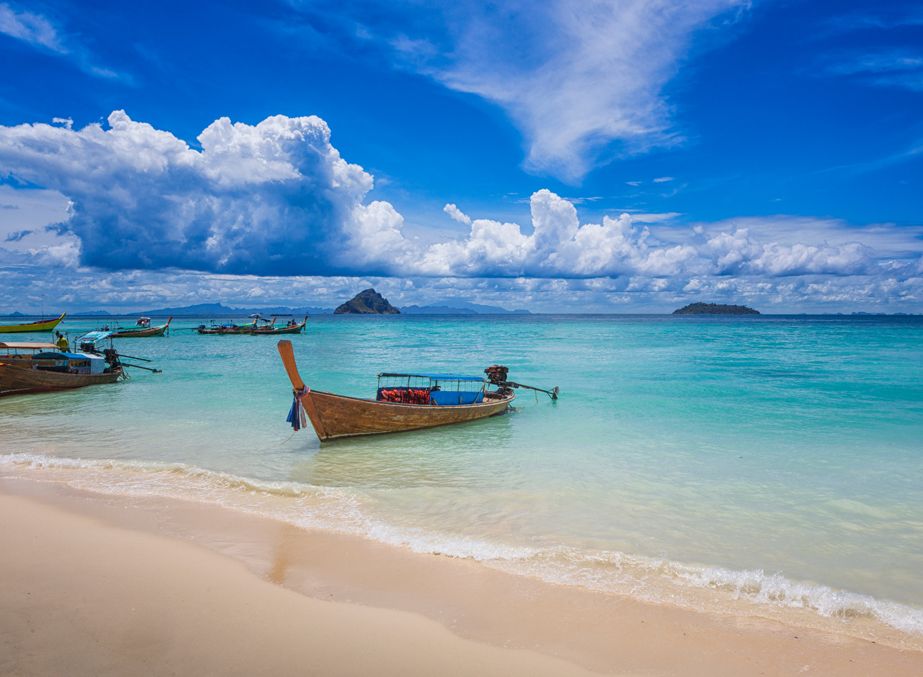 Among the most beloved beach destinations in the world is Phuket, the largest island in Thailand. The angelic fine white sands of the beach, clear sparkling seas, lanky palm trees, and a mesmerizing experience of Thai culture is what draws its tourists to the enthralling islands every year. Phuket is enveloped by the magnificent Andaman sea waters, off the west coast of Thailand and is home to over 30 spectacular beaches like Patong, Kala, Karon and Kamala beach. Patong, the main resort town of the island is upbeat and has many pubs, bars, and nightclubs and often a younger crowd is observed in these parts of the town; especially in January. The interiors of the city consist of mangrove forests, villages, rubber and pineapple plantations. This part is still quite untouched but is authentic to the cultural mix of Thais, ethnic Malays, and even sea gypsies.
Weather In Phuket In January
Phuket has a tropical monsoon climate making it hot and humid throughout the year. The white sand island experiences some of its best weather in the month of January, making it the most attractive season for tourists.
The month falls in the midst of the dry season of the island with average rainfall at a low of 35.6mm; light showers usually only during the night.
The average temperature of the month is a pleasant 27 degrees with an average high/low of 32 degrees and 22 degrees respectively.
Humidity also drops as the monsoon season drops, with an average of 64%. The weather makes the destination ideal for swimming, snorkeling, diving, and other such water sports.
Places To Visit In Phuket In January
Phuket has a wide selection of attractions to offer to its tourists, ranging from vibrant beaches brimming with people, activities, calm boat tours, tranquil beaches and even multiple tourist sites that allow you to appreciate the cultural mix that the place offers. Here are a few places that you can visit in January.
Patong Beach

Patong Beach is the most popular beach and is known for its clean shores and fabulous nightlife. One can enjoy many water sports here such as swimming, parasailing, and others during the day. You can party till the wee hours on this beach that has a number of restaurants, pubs, and nightclubs to offer. Apart from its youthfulness, the beach is picturesque with its clear azure waters and lush green forests all around. Even though the beach is crowded, it has a lot of food stalls and shops that make up for it. Patong beach is extremely attractive in January as you will be able to admire the beauty of the scenic beach along with the energy of the tourists present there.

Freedom Beach

Since January is the peak tourist season for Phuket, you may find yourself in crowded streets and beaches all the time. But Phuket has something for everyone! If you are someone who likes tranquil, crowd-free beaches, visit Freedom Beach. It is a beautiful stretch of white sand that is accessible by a boat from Patong, Kamala, Karon or Kata Beach; the shortest route being from Patong Beach. You can negotiate prices, especially if a large group is taking the boat ride. On reaching Freedom beach, you can rent a sun lounge for a small fee.

Bangla Road

Bangla Road is the central hub of nightlife in Phuket. It is a mere 400 meter stretch of road close to Patong beach that has been reserved for only walking. It is extremely lively, especially during the evenings with bright lights, street performances and much more. Restaurants and pubs are open-air or open-fronted and compete for customers. Since the street is abuzz with tourists at this time of the year, the ambiance of the place is incredible and many restaurants and bars have special offers to attract customers.

Tri Tra Beach

Another beach that can help you maintain the right balance of city hustle and serene beauty in your Phuket itinerary is Tri Tra beach. It is often confused with Tri Trang beach and is thus also referred to as Crystal or Emerald Beach. This sandy beach is a great place to relax in the warm water on days of high tide. You can enjoy a massage here and simply unwind on the beach in solitude.

Phang Nga Bay

It is a 400 km square bay enveloped between the island of Phuket and the mainland of Kra Isthmus. A unique feature of Phang Nga Bay is the limestone karsts that stand upright out of the emerald green water. The best means of enjoying the magnificent scenery is to take a boat trip from the northern end of Phuket. You can plan a leisurely day trip cruising through the islands, while occasionally stopping to enjoy the surrounding beaches. Since January is a dry month in Phuket, the boat ride to the islands is ideal as the waters remain calm. One can even enjoy Kayaking here and stop for lunch at Koh Panyee.
Things To Do In Phuket In January
Whether you are traveling solo, with your family, partner or group of friends, Phuket always has a wide range of activities that you can engage in. From water sports to enjoy a barbeque on the beach, Phuket is always abuzz with things to do.
Phuket Weekend Night Market

Phuket Weekend Market is a coveted tourist checklist that enthralls the crowds with its endless display of exciting items, shops, and authentic cuisine. Tourists generally love to sift through the many items for sale from multiple shops like clothes, souvenirs, and accessories for reasonable prices. It is also the quintessential place to try some exotic, eccentric Thai food - including fried insects!

Snorkeling at Koh Rok and Koh Haa Islands

You can visit the beautiful islands of Koh Rok and Koh Haa and spend the day snorkeling and observe the wonders of Andaman waters. One can take a speedboat from Phuket to reach these islands and enjoy snorkeling during the day. You will be able to appreciate the abundance of tropical fish under the water and the majestic coral reefs. Many tour plans include an authentic homemade Thai lunch and round-trip transportation facility in their snorkeling packages.

Phuket Simon Cabaret

Close to Patong beach is Phuket Simon Cabaret, a theatre that offers an evening of live music, dance performances and comedy shows by a troupe of transgender entertainers. It is a magnificent display of vibrant colors in a single show that combines a wide range of musicals from cultures all around the world. The performers are decked up in extravagant costumes, loud makeup that complement the impressive background set. The entertainers are extremely skilled and wow the audience in the 70-minute show with their choreography, set changes, and predictable laughs. Phuket Simon Cabaret is a family-friendly show that you can enjoy with your children. Timings: Daily at 6 PM, 7.30 PM and 9 PM

Scuba diving at Kata and Karon Beach

Many tourists visit Phuket to check things off their bucket list and scuba diving is one of them! In January, many scuba diving centers offer training and gear but it is important to pick a PADI accredited center that will ensure safe rental gear. Both Kata and Karon Beach have many scuba operators that you can choose from, a few of them being Dive Asia, Oceanic Dive center and Oceanic Dive center.
Places To Stay In Phuket In January
The extensivity of accommodation options allows travelers to compare and pick their stay on the island. January being the peak season results in an increase in cost of hotels. While we have found budget-friendly options for your stay, advance bookings may help reduce the price of your stay.
Seeka Boutique Hotel

If you are looking for a budget hotel, we recommend staying near Patong Beach and this hotel should be your pick. Seeka Boutique Hotel is a simple 13-minute walk from the beach and has quite a few amenities, including an indoor pool and restaurant. It is a good pick among the many value-for-money stays in Phuket. Tariff for one night, one room, two adults: INR 2000

Phuket Merlin Hotel

Another budget hotel that you can book is Phuket Merlin Hotel located in the Muang district of Phuket. It's proximity to Phuket Old Town, Phuket Weekend Night Market, and Phuket Trickeye Museum makes it an attractive choice of accommodation. It provides basic amenities to its guests and has an indoor pool and restaurant. Tariff for one night, one room, two adults: INR 2000

Amari Phuket

If you are looking for a luxurious, elegant hotel for your stay in Phuket and do not mind splurging then The Amari Phuket is a perfect choice. It is very close to Patong Beach and a large variety of amenities in the rooms with the view of the beach or sea. Families can pick the junior suite which includes an open balcony and an enclosed terrace for privacy. All rooms are air-conditioned with attached private bathrooms, TV, minibar and facilities for tea and coffee. Tariff for one night, one room, two adults: INR 14,000

Surin Phuket

Yet another luxury hotel in Surin Phuket, which offers an ideal tropical holiday on the white sands of Pansea Beach that gently slopes down to a small coral reef. Their cottage style property has a beachfront with spectacular views from the room. Among many top-notch facilities, the hotel has an outdoor pool and spa and different room sizes to pick from. Tariff for one night, one room, two adults: INR 12,000
Festivals In Phuket In January
Phuket is always buzzing with events and festivals especially in January since maximum tourists travel to the white sea island at this time. Here are a few festivals you might like to check out in January.
Moon Festivals

The famous Moon festivals are held once every two weeks on Paradise beach and are major tourist attractions. You can party until the sun rises under the gorgeous light of the full or half-moon. International DJs play the soundtrack for the crowd. Other entertainment events include a fire show as you dance the night away with your friends and professional dancers. Signature drinks and cocktails are also available at the event. You can pre-book tickets to this festival from their official website. Tickets can range from 1800 INR to 3500 INR.

Zuma returns to Phuket

The famous contemporary Japanese restaurant Zuma returns to Phuket presenting an exclusive culinary experience. Tourists get to pick from a well put together menu including robata grill, signature seafood, Japanese Wagyu beef and Daikoku that help you relish the distinct taste of Zuma-nian Sushi. It is being held from December 2019 - February 2020 in Anantara Lun.

Chinese New Year

Phuket Chinese New Year usually falls in the month of January or February and brings along with it several days of festivities. With a large ethnic population descending from migrants to Phuket in the past, this festival is an important annual event and is celebrated with more pizazz and color each year. It is celebrated in the old town of Phuket.
What to pack and carry
The island of Phuket has over 30 beaches! The dry weather in January entices tourists to enjoy their days swimming and relaxing on the beach. You must not forget to pack your swimwear and sunscreen for the beach. In case you plan to enjoy the nightlife Phuket has to offer, you can carry your party dresses too!
Where To Eat In Phuket In January
With the island of Phuket bustling with tourists in the month of January, there are a number of street food options that tourists can relish on Patong beach, Bangla road or during the Phuket weekend night market. Apart from that, there are innumerous restaurants to suit every taste with a wide variety of western and Asian food. Phuket is especially known for its seafood which is available at cheap prices for a sumptuous amount of dish. If you wish to enjoy your seafood at a dine-in restaurant, you can eat at Kan Eang @Pier in Chalong Bay, Mor Mudong Restaurant in Chalong, Pak Nam Seafood restaurant in Phuket Town to name a few.
How To Reach Phuket
Being among the most aesthetic beach destinations in the world, Phuket is also very well-connected with the rest of the world. The fastest mode of transport to reach the white sand island is by taking a flight. While Phuket can be reached from other parts of Thailand by road, it does not have any direct trains that connect it to other cities yet.
By Air: Phuket International Airport is one of the busiest airports in Thailand and connects both international and domestic flights. It allows daily flights from Bangkok to fly in and out of the town easily. Many countries such as India, Germany, Australia, Singapore, and Malaysia are also directly connected to Phuket by air.
By Road: There are air-conditioned and non-air conditioned buses easily available and one can board a bus from Bangkok, Surat Thani, Krabi, Phang Na and other such areas of Thailand. Thailand has a well-linked road network that makes intra-city travel convenient and budget-friendly.
Phuket is the quintessential mix of magnificent, picturesque beaches, tropical beauty and the vibrant energy of a city that makes it the most loved island destination. Groups of all sizes and budgets can enjoy the island and immerse themselves into the vacation vibes throughout the year. Only after you visit Phuket do you understand why it is called "The Amazing Thailand!"