Overview
One of the most iconic landmarks of Thailand, James Bond Island got its fame by virtue of the Hollywood blockbuster The Man With The Golden Gun (James Bond Series) that was shot here. Islands in the proximity of Phuket boast about the several rugged limestone formations. This Island is no less. There are hundreds of structures standing tall in the middle of the emerald-green water.
To ensure that you don't miss out on anything significant on your James Bond Island Tour, we have an action plan that you can follow to the T in order to cover every nook of this spot.
Suggested for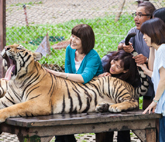 Families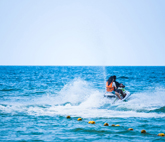 Couples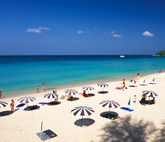 Friends
Places to cover:
1
Panak Island: It is better to start the tour early in the morning. Depart for Phang-Nga Bay using a speedboat where the James Bond Island is located. Once at the Bay, it is best to start with the Panak Island and Hong Island. These islands are reputed as the best spot for canoeing. The ferocious structures of limestones and the narrow paths make them two of the most thrilling spots to visit in Thailand. The surrounding mangrove forest is simply a cherry on top.
2
James Bond Island: Next comes the showstopper - James Bond Island. Also known as Ko Khao Phing Kan in the local language, James Bond Island is beautifully located. Here you can enjoy the panoramic views of the natural marvels. The cerulean waters, limestone formations, forest-clad cliffs, and the clear blue skies make James Bond Island the star that it is. Stroll around the beach, spend some Bahts on the souvenirs, take a ride on the long-tail boats, or just relax by the waters.
3
Panyee Island: After the tiring tour, next comes a splendid buffet lunch at Panyee Island. After indulging in mouth-watering delicacies at this fishermen village, spend some time witnessing the lifestyles of locals residing here. Koh Panyee is among the famous floating villages that form a significant part of Thailand's traditions. This village is home to the descendants of Toh Baboo, his family, and his friends, the discoverer of this village.
4
Lawa Island: Finish your James Bond Island Tour at Lawa Island. This Island is idyllic for one to try out one of the most interesting water sports named kayaking. For those who seek solace and a spot to get away from the crowds can surely consider paying a visit to this Lawa Island. You can swim, read, or just sit by the beach looking at the clear blue ocean flowing by after a tiring tour.

Pick up time:
8 AM
Drop Time:
5 PM
Entry fees for Child:
THB 1200 (National Park fees of THB 300 Extra to be paid at the Island)
Entry fees for Adults:
THB 1600 (National Park fees of THB 300 Extra to be paid at the Island)