Overview
Krabi is one of its kind when it comes to enjoying a leisurely vacation. Offering the magnificent views of the lush green foliage blended with the sea-green waters and white sandy beaches, Krabi is among the most serene destinations. 4 Island Tour is one of the key highlights of Krabi and has all the details mentioned below.
Suggested for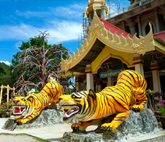 Sr Citizen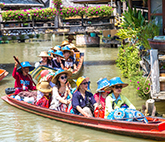 Families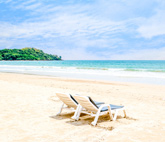 Couples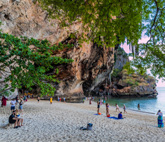 Friends
Places to cover:
1
Railay Beach: Start the tour early by heading to Railay Beach. This beach is a paradise for rock climbers out there. The lush greens covering the floors of this white sand beach takes away the breath of spectators. Stroll around the beach, try out some rock climbing if you have your gear, or just sit and relax your vacation away from the bustling city culture.
2
Chicken Island: Next head to perhaps the most photogenic islands of the tour, the Chicken Island. Also named as Koh Kai, the island got its name by virtue of the chicken-shaped rock that forms the southern tip of the island. Just imagine witnessing a limestone formation in the shape of a chicken. Another peculiarity about this island is the sandbar that connects it to Koh Mor and Koh Tap. Visible during the low tides, this sandbar gives one an opportunity to cross one island from another with the crystal water surrounding them.
3
Tub Island: Krabi is full of fun names. We have already covered Chicken, how about the tub now. The next stop is the Tub Island that is also named as Koh Tap in the local language. When the tides are pretty low, one can easily travel from Chicken Island to Tub Island using the sandbar aka Talay Waek. The sands of this island are covered in corals and beautiful shells. The panoramic views of the surrounding nature marvels are a sight to behold.
4
Poda Island: At last, after all the sightseeing and enjoying the day to the fullest, head to Poda Island for a buffet under the bright sun. This tiny limestone island is just around a kilometer in diameter and has its floors covered in swaying lush greens. The local restaurant here serves some delicious delicacies that one can indulge in. End your tour by devouring scrumptious food and relaxing at the beach before heading back to the accommodation.

Pick up time:
8 AM
Drop Time:
5 PM
Entry fees for Child:
THB 600 (National Park fees of THB 400 Extra to be paid at the Island)
Entry fees for Adults:
THB 800 (National Park fees of THB 400 Extra to be paid at the Island)