Overview
The nodding palm trees, long stretches of glittering white sand, and turquoise blue water define the landscape of Phuket. This city is magic. When someone seeks a true beach vacation, this where they head. Phuket city tour covers all the major spots that one can cover in a single day. Find a reference itinerary that you can easily follow on your vacation to Thailand.
Suggested for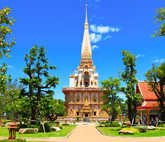 Sr Citizen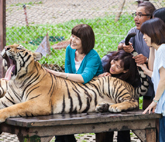 Families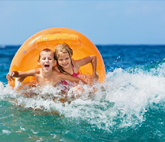 Children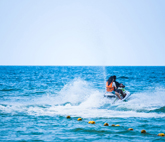 Couples
Places to cover:
1
Kata viewpoint: It is best to start early morning for a Phuket city tour as there's plenty to cover. Start your day in Phuket by witnessing some of the most picturesque views of the majestic Andaman Sea that is spread as far as a naked eye can see. The Kata viewpoint also exhibits the jaw-dropping vista of three major beaches of Phuket namely Kata Noi, Kata Yai, and Karon, and several thousand shades of green.
2
Big Buddha: Next, go for a little sightseeing around the iconic landmarks of Phuket. Start with the Big Buddha. Phuket offers the finest alchemy of a leisurely, adventurous, and culturally inclined vacation. The Big Buddha is a 45 meters tall statue of the Lord, sitting atop Nakkerd Hills. This site offers panoramic views at every sight. One can observe Phuket Town, Chalong Bay, Kata, and Karon beaches surrounded by stupendous marble white figurines.
3
Chalong Temple: Continue your spiritual tour with the Chalong Temple which is in the proximity of the Big Buddha. Also named as Wat Chalong, this temple not only boasts about tranquil vibes but also its eye-catching glittering architecture. This historic landmark has peculiar tales of miracles latched to itself. This magnificent pagoda is famed for being home to a splinter of Lord Buddha's bone. The intricate and detailed wall paintings of this temple make the tour more colorful.
4
Old Phuket Town: The temples can be a little overwhelming with the grandeur. After strolling around the two legendary attractions of Phuket, how about you notch down things a little and head straight to the bustling streets of Old Phuket Town. Exuding the colonial vibes by virtue of its architecture, the Phuket Town is a world on its own. The houses of various hues of yellow, pink, green, blue, & more, cute coffee shops, a couple of amazing museums, charming boutiques, and the vibrant street art make this little break extremely fun-filled.
5
Cashew Nut Factory: Like for every other beach destination, cashews are a significant part of Phuket too. The best thing about the beach destination is, however, that one can take a tour of the Cashew Nut Factory here. The tour usually begins with trying out the juice of cashew nuts, followed by taste tests of a variety of cashew nuts, and the process of storing these dried fruits.
6
Big Bee Honey Farm: After a little break head to cover the last attraction of your Phuket city tour. The tour Big Bee Honey Farm is everything related to bees and honey. It begins with witnessing bees in their habitat producing honey. Then one is taken to a store where everything is made of honey, from coffee to chocolates, from alcohol to hand creams, each product has one common ingredient i.e. honey. The chocolates here can surely be the sweetest end to your tour!

Morning Timing:
10 Am to 2 PM
Afternoon Timing:
1 PM to 5 PM
Entry fees for Child:
THB 600
Entry fees for Adults:
THB 800