Overview
One of the major parts of the renowned Royal Grand Palace, the Temple of Emerald Buddha is among the famous religious spots of Southeast Asia. This temple is home to an enticing figurine of the Lord seated in a yogic posture, meditating. This might not be the largest of the statues of Buddha but it still never fails to inspire awe.
This figurine of Lord Buddha was constructed using a single piece of green jade and is covered in diamonds and gold. The temple is nestled in the heart of a courtyard that showcases the remarkable craftsmanship and architecture from the Royal Era of Thailand.
Also named as Wat Phra Kaew, the temple of Emerald Buddha is adorned with intricate sculptures, sophisticated paintings, and handicrafts. The unique structure and architecture are what makes this temple stand out among others.
Suggested for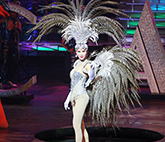 First Timers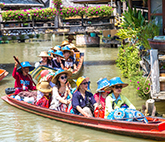 Families
Things to Know before you Visit:
1
Since it's a temple, both men and women are advised to be fully clothed. It is best to avoid sleeveless, see-through, and short outfits.
2
Shoes are not allowed inside the temple. So it is better to carry a bag that is big enough to fit the footwear.
3
The entire atmosphere of the temple is extremely peaceful. Tourists are advised to remain quiet and avoid laughing loudly or running around the temple.


Open Timings:
8:30 AM - 3.30 PM (Daily)
Entry Fees for Kids:
Free for kids under 120 cm
Entry Fees for Adults:
500 THB