Overview
The hints of tradition and heritage can be found around every corner of Bangkok, in the language, in its food, and in the various forms of art. One such carrier of its rich history is the famous Siam Niramit Show, one of the world's biggest stage productions.
This brilliantly portrayed 90-minute production showcases the antiquity of the last seven centuries of Thailand. Siam Niramit Show takes place in the Ratchada Theatre and gives the spectator a chance to witness the true picture of the magnificent Kingdom of Siam several hundred years ago.
The entire theatre is well-equipped with the highly-detailed sets and art direction that takes it as close to reality as possible. The real-life goats and elephants, the synchronized lighting, and three perfectly structured acts are bound to transport the audience to the golden days, making this show a hit. It is a not-to-be-missed experience for those who have a knack of stepping into the glorious past of Thailand.
Suggested for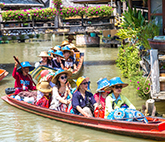 Families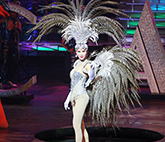 First Timers
Things to Know before you Visit:
1
Dress code: There are no restrictions on attires. Both men and women can go for casual outfits or dress up as per their wishes.
2
There is a buffet with local as well as international cuisine that one can enjoy right before the show.
3
Apart from the theatre, there are also other traditional performances that take place in the courtyard of Siam Niramit before the show. You can also witness those and be a part of the performances.
Pricing
| Seats Particular | Entry Fees for Kids (THB) | Entry Fees for Adults (THB) |
| --- | --- | --- |
| Standard Show | 1500 | 1500 |
| Standard Show + Dinner | 1750 | 1850 |
| Golden Seat | 2000 | 2000 |
| Golden Seat + Dinner | 2250 | 2350 |
| Platinum | 2500 | 2500 |
| Platinum Seat + Dinner | 2750 | 2850 |


Open Timings:
05 p.m. to 10 p.m. (Daily)
Show timings:
8 pm (90 min)
Buffet Timing:
05:00 p.m. to 7:45 p.m.
Kids
Height between 90 cm to 140 cm
Below 90 Cm, kids are free