Krabi Honeymoon Packages
Your wedding is just around the corner and still not able to decide where to visit for your honeymoon? Your quest for the best place to spend your honeymoon ends here. Every couple dreams of having a dreamy picture-perfect honeymoon moment and Thailand just fits right for all your desires and expectations. There are many popular destinations in Thailand but of all, Krabi is one of the most popular romantic places to be with your life partner.
Krabi is located in southern Thailand. The distance of Krabi from the capital city Bangkok is around 800 kms. Krabi is an appropriate place to have a laid back and leisure honeymoon days which every couple seeks rather than being in a crowded place. The province is located between Phang Nga and Trang and has the most breathtaking landscapes, a perfect romantic background where you sing the love song with your partner.
Krabi has more than 150 islands off its 150 km long coastline. The picturesque beauty of Krabi covers both the land and the sea and the wonderful panorama of the horizon can be observed laying or strolling on the white sandy beach along with your special one. From Krabi one can witness one of the best romantic sunsets. Krabi is covered with forest, has towering limestone cliffs, beautiful waterfalls, numerous caves and exotic wildlife. You can never get enough of Krabi as there are a lot of things to do as well. After refilling yourself with enthusiasm after some leisure private moments with your partner, Krabi provides a number of fun and adventurous activities to take part such as snorkelling, kayaking, scuba diving, rock climbing etc.
Krabi comes in a full package that will give you the ultimate satisfaction of visiting for honeymoon and will make you fall in love with the place. Book a Krabi honeymoon tour package from Thailand tourism and at ease travel in the foreign land and get the most out of Krabi.
We have found Packages for you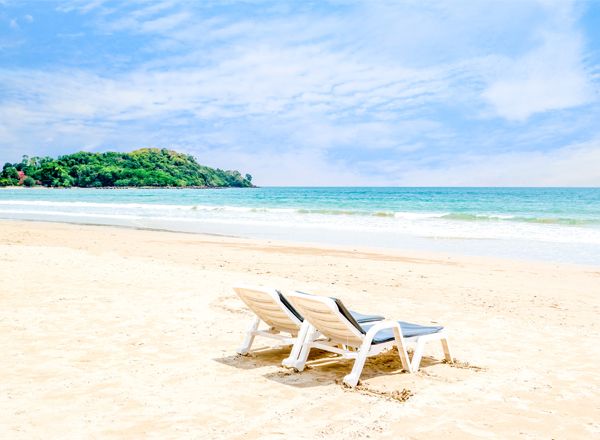 04 Nights / 05 Days
Exortic Honeymoon in Thailand
Price

Available
Only

on Request
Hotel Stay
Flights
Sightseeing
Cab Transfer
Meals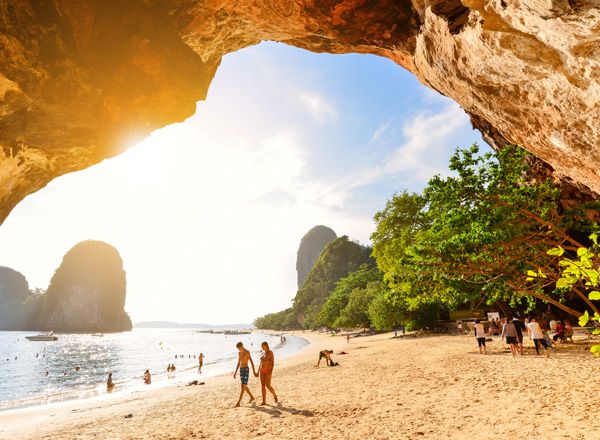 04 Nights / 05 Days
Budget Honeymoon Package in Thailand
Price

Available
Only

on Request
Hotel Stay
Flights
Sightseeing
Cab Transfer
Meals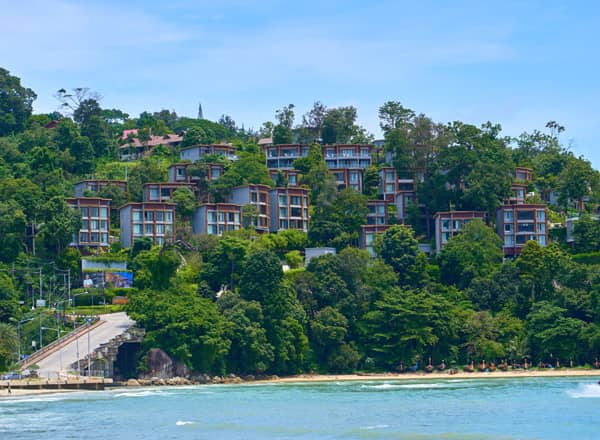 04 Nights / 05 Days
Love for Phuket
Price

Available
Only

on Request
Hotel Stay
Flights
Sightseeing
Cab Transfer
Meals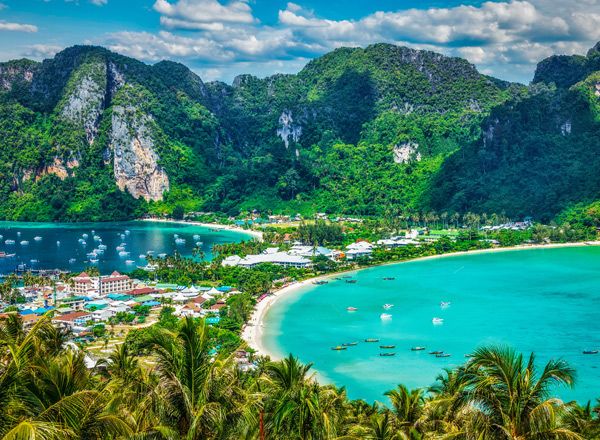 05 Nights / 06 Days
Make love in Phuket and krabi
Price

Available
Only

on Request
Hotel Stay
Flights
Sightseeing
Cab Transfer
Meals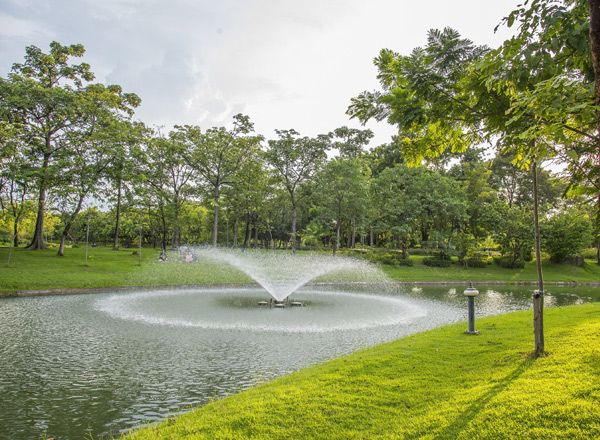 04 Nights / 05 Days
Love in Bangkok Pattaya
Price

Available
Only

on Request
Hotel Stay
Flights
Sightseeing
Cab Transfer
Meals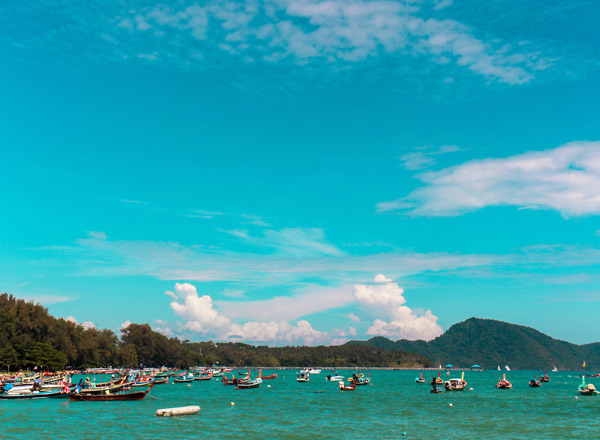 04 Nights / 05 Days
Overloaded Love for Phuket
Price

Available
Only

on Request
Hotel Stay
Flights
Sightseeing
Cab Transfer
Meals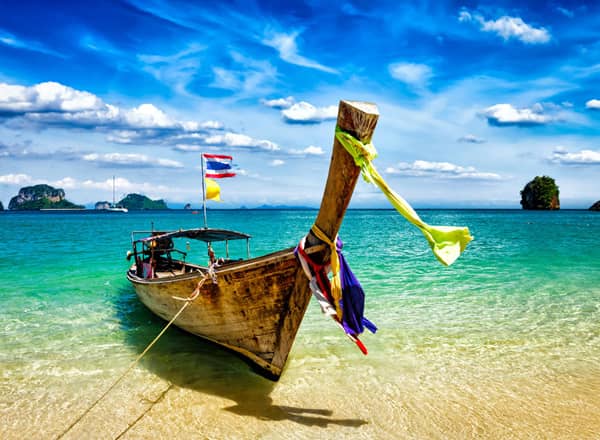 06 Nights / 07 Days
Special Honeymoon Delight in Phuket & krabi
Price

Available
Only

on Request
Hotel Stay
Flights
Sightseeing
Cab Transfer
Meals
Why book Krabi Honeymoon Packages with Thailand Tourism
If anything that is more important for couples after their wedding, it is their honeymoon. The essence of the honeymoon can't be enjoyed every time in its full glory like the first time, as every first time is always special and gives an endless beautiful memory. And to give you a picture-perfect honeymoon experience, Thailand tourism has taken up all the work on itself to provide you the best service by which you can spend most time with your life partner rather than worrying about looking for good hotels and its booking and other issues that might occur in the foreign land. For years we have been assisting couples to plan their honeymoon trip by providing the perfect itinerary according to their desires. We understand the importance of the comfort and privacy that couples need during this phase so we make sure you get enough leisure time with your better half and also not to miss out all the fun and activities that Krabi has in store. From hotel booking, to travelling and sightseeing, and suggesting you the romantic places where you should visit, all will be our responsibility and such a great deal you won't find anywhere else.
Most Romantic Honeymoon Places in Krabi
Being in love and marrying the person you love the most is the best feeling ever and when the wedding bells rang all you can see is red hearts everywhere. The most important thing that comes after the wedding is the honeymoon and couples sought after the romantic destinations where and not to mention less crowded where they can have their own time and privacy. Krabi has many places as such that will give you the utterly blissful feeling of being in a paradise. We have shortlisted to five romantic places in Krabi that should definitely be included in your Krabi honeymoon package.
Railay Beach- Railay beach is only accessible through boats as it is cut off from the Krabi mainland by having a huge limestone cliff in the middle. Railay beach will give you the feeling of visiting a private island and is famous for being one of the most beautiful beaches in the world. You will get to witness a mesmerizing and romantic sunset in Railay beach. Also, if you are visiting during the peak season you might want to stay a little longer till night in the beach as the night life is really vibrant with beach fire dancing, beach parties, live music, Thai boxing and what not. You can grab some drinks and enjoy the lively ambience of the beach party with your partner.
Phi Phi Island- Phi Phi Island is famous all over the world. Each year many tourists flood there to witness the beauty of the Phi Phi island. The sunset view at Phi Phi island is just amazing. There are bars and restaurants you can visit which have a beachfront sitting where you can dine and watch the breathtaking view of the sunset with your beloved. Also, you can simply lie on the sand with your partner and have the water crashing on your feet and both of you enjoying each other's company as well as viewing the sun going below the horizon.
Tiger Cave Temple- Tiger cave temple or Wat Tham Sua is a Buddhist temple in Krabi. It is a sacred site located 5 km northeast from Krabi town centre. Located in a natural setting, this is a great place to witness the most amazing view of Krabi. The temple is situated at a height of 278 m and needs some strenuous work to reach the summit of it. It is adventurous as well as gives the most amazing feeling when you reach the top. To reach the temple you need to climb almost 1237 steep steps but the view from the peak is worth it. From the summit you will get a 360 degree breathtakingly beautiful view of Krabi. The temple's main attractions are the tiger paw impression and the giant Lord Buddha statue.
Koh Lanta- Koh Lanta is one of the hidden gems of Thailand and also one of the most beautiful islands of Thailand. Koh Lanta is located between Phi Phi island and the mainland. The beaches are uncrowded here so you can have the leisure time here along with your partner. Koh Lanta is surrounded by the forest and has beautiful waterfalls. Its coastline has many beautiful beaches and all of it is worth visiting for. Apart from being a perfect place for relaxation during honeymoon away from the crowd, Koh Lanta also provides fun and adventurous activities like scuba diving and snorkelling.
Phra Nang Beach- Phra Nang beach is a gorgeous beauty of Krabi. It is a small peninsula located between the city of Krabi and Ao Nang beach. It is cut off from the mainland by the limestone cliff and can only be visited through a boat. It is also a very suitable place to visit along with your partner where both of you can just lie down in the soft sand and get mesmerized by the emerald green water ahead. The pristine shallow water also gives a nice option for swimming and snorkelling. In Phra Nang beach lies the 'Princess Cave' which according to the locals is the home of an ancient fertility goddess. You can also do rock climbing and exploring the caves. For more adventurous action you can hike to the top to find some mesmerizing viewpoints.
Things to do in Krabi for honeymoon couples
Krabi provides a lot of excitement and adventure. It has the perfect balance where you can feel the pleasure of having relaxed and romantic moments with your other half and as well as feel the thrill and get indulge into fun activities. Of all the things, here are the top 5 things that couples can do in the beautiful tropical landscape of Krabi on their honeymoon trip.
Relax in Klong Thom Hot Springs- Dipping into a hot spring is really therapeutic and relaxing and is romantic as well. Klong Thom hot springs is a very famous tourist attraction of Krabi. The 'hot tubs' have been cut into smooth rocks and the water is channelled from deep rooted thermal springs which are located in the volcanic chambers. It is situated close to the Khao Phra Bang Khram Nature Reserve and in the same reserve as the Emerald Pool. It is a very beautiful setting to be surrounded by the rainforest and get the feel of ultimate relaxation in the middle of nature. The temperature of the water remains between 30-40° C and the water contains natural mineral salts which have numerous health benefits.
Scuba diving- Krabi is one of the best places in Thailand to experience underwater marine life. In the pristine clear water of Krabi, you will find some best scuba diving sites. Krabi offers diversity in scuba diving; for beginners it offers dive into the shallow waters and for advanced swimmers the dive is deep and long and goes through caves. It is an outstanding experience to get close to marine life and witness all the beauties of it. Ao Nang and Railay beach have easy access to scuba diving; these are quite popular for it as well. Scuba diving in Koh Haa Yai you will find underwater caves apart from marine life. Phi Phi island and Similan island are also famous for scuba diving. Sometimes you will find yourself passing by leopard sharks, Manta rays, pipefish, sea turtles and the colourful view of the coral reefs.
Snorkelling- Snorkelling in Krabi is very famous. For everyone who is not comfortable with wearing all the complex breathing equipment and diving deep into the sea, snorkelling gives a very good option to experience marine life. Krabi is best suited for snorkelling as most of its beaches have crystal clear water. The mesmerizing tropical landscape, the beautiful coral reefs, the limestone cliffs of Krabi and the preserved marine ecosystem all makes it an appropriate place for snorkelling. In Phi Phi island, the crystal-clear water makes it ideal for snorkelling. Best spots to snorkel are Hin Klang, Lohsmaha Bay, Ao Maya and Ao Lo Sama. Bamboo Island is another famous Island in Krabi for snorkelling. Get the beautiful view of the coral reefs and also spot leopard sharks.
White water rafting – Water rafting is a really adventurous water sport. It is a new activity that's started in Krabi and becoming very popular. Rafting basically takes place in the Songpraek river in Phang Nga province. It is almost 1.5 hours away from Ao Nang. It is very thrilling to go rafting with the rapid flow of water and the experience is full of excitement and adventure. You will be trained well first before actually getting your foot in the water. All the safety measures are taken so that you are completely safe while you are going to feel a high adrenaline rush. It is beginner friendly with a scale of difficulty available from low to moderate. The raft is managed by professionals from the front and the back so that you just sit and enjoy the splash of the water.
Learn the secrets of Thai cuisines – Learning about the secrets of Thai dishes is a very famous activity for couples to do on their honeymoon trip. It is always fun to take a couple cooking challenges and learn cooking together. There are many cookery schools in Krabi who provide cooking classes to learn about Thai dishes and how to make various food and beverages. There are many places where chefs will take you to the market to teach you about various ingredients and the right proportion to use it. It is a really fun way to make memories with your partner and also to learn about other cultures and their delicious cuisines.
Krabi Honeymoon Packages FAQ's

How to reach Krabi?
Krabi can be reached by both the land and air but it is best preferred to visit by air. There is direct flight to Krabi from the international airport. Also the flight runs daily from the major cities of Thailand like Bangkok, Koh Samui. By road if you are planning to travel then the direct bus to Krabi operates daily from Southern Bus Terminal of Bangkok and also from Phuket.
What is the best time to visit Krabi?
Best time to visit Krabi is the peak season, i.e, from the months of November to March. During this time the temperature remains very pleasant with cool tropical breezes, perfect weather to visit and get the most out of the mesmerising landscape of Krabi.
Among Phi Phi island and 4 island tours, which one is better?
Both Phi Phi island and 4 island have its own charm and essence. Phi Phi island is one of the most beautiful islands of Thailand with the white sandy sea shores, crystal clear water and a lot of activities to perform and not to mention really crowded whereas 4 island is more laid back and less crowded. If you want to have some alone time in a less crowded and secluded place, 4 island should be your option. At the end it depends on your personal preference.
How many days is needed in Krabi?
On an average you would need 3-4 days to completely explore Krabi. The beauty that Krabi is and the large number of breathtakingly beautiful beaches and islands it has needs a bit time to completely take a tour and also to participate in the fun and adventurous activities.
Is Krabi worthy to visit?
Definitely Krabi is worth visiting and it would rather be a loss if you went for a honeymoon trip in Thailand and didn't go to Krabi. Krabi counts among one of the most romantic destinations of Thailand which is very appropriate for couples. It has a very romantic ambience and you will fall in love with the beauty of the place. You will have the best time of your life here in Krabi with your beloved and can make beautiful memories to cherish forever.
What are the best water sport activities to do in Krabi?
Krabi is famous for being a romantic destination and being a laid back place to relax and just enjoy the beauty of the land and the sea but it offers the best combination of providing fun activities as well side by side. Water activities are quite famous in Krabi and it is said to be one of the best places to experience water sports in Thailand. You can go for scuba diving, snorkelling, kayaking, sea canoeing, swimming and surfing, and boating and sailing in the sea.
Which are the best boat tours to Hong Island in Krabi?
Hong island is located just off the coast of Krabi in Southern Thailand. It is another beautiful destination to visit with lagoons and spectacular while sandy beaches and surrounded by the rainforest. You can explore coral reefs here.
1. Hong island tour by speedboat with kayaking
2. Hong island deluxe tour by longtail boat from Krabi
3. James bond island, Phang Nga Bay and Hong island tour by speedboat
What are the best places to Snorkel in Krabi?
Krabi is quite famous for snorkelling and it is a very wonderful water sport where you can get to see the beautiful marine life. The best places in Krabi for snorkelling are- Phi Phi island, Hong island, Similar island, Bamboo island and Koh Lanta.
Which are the best sunset cruises in Krabi?
Hong islands are perfect to enjoy a sunset cruise. It gives one of the best cruise experiences and the ethereal landscape it provides is worth every penny. Mentioning here some of the best cruise to Krabi- Hong island tour by speedboat, Hong island tour by Kayaking, Hong island tour by longtail boat, and Hong island and Ao Thalane boat tour.
Which are the best places for scuba diving in Krabi?
Krabi is one of the ideal places in Thailand for learning scuba diving and diving underwater. The crystal-clear water and the preserved marine life make it appropriate for getting close to various fishes, sharks, colourful coral reefs. Some of the best places for scuba diving in Krabi are- Phi Phi island, Similan island, Koh Haa Yai, Ao Nang and Railay beach.
What are the best rock climbing spots in Krabi?
Rock climbing is another famous adventurous activity to do in Krabi. It is thrilling and needs some strenuous work to perform and is a very good option to do some exciting tasks after some relaxed vacation moments. Rock climbing in Krabi can only be done in the Railay beach. It has about 150 bolted routes and these routes are of mid to high extension range and have limestone faces.
Which are the best sunset spots in Krabi?
Krabi is one of the best destinations to witness the most romantic sunset in Thailand. Honeymooners each year come to have some romantic moments and bathe in the glow of the golden hour in the pristine beaches of Krabi. Get the glimpse of the best sunsets from Railay beach, Ko Lanta, Tiger Cave temple, Koh Poda and Ao Nang beach. Visit the sea shore during sunset, stroll on the beach with your partner and have a blissful time of your life.
Is the Norah show in Krabi worth attending?
Yes definitely Illumanorah show is worth a visit when you are in Krabi to see the beautiful light performance at night. Norah show takes place at Paka Show Park located on Phetkasem road provides full entertainment. Along with the dance and light shows, it also features delicious seafood. The show is based on portraying the Thai traditional culture which dates back to the 14th to 18th century while giving it a modern touch of light and music. The show tells the tale of Princess Manorah, the folklore of the half bird and half woman. Opening hours— 17:00 - 22:00
What are the best places to stay in Krabi?
Ao Nang is the most popular place in Krabi to stay for holidays and it is of course crowded. For a more romantic and secluded stay you can choose Klong Muang and Tup Kaek. Phi Phi island is another romantic destination for staying during honeymoon but it is again not so secluded. And if you want to completely cut off the crowd and want to have alone time with your special one, you can choose to stay at Ko Ngai. It is far away from the popular places of Krabi and is very quiet, perfect for relaxation and to stay away from the world. Apart from that, Thailand tourism can provide you with more suggestions according to your requirements and we will make your stay in Krabi worth remembering.
How long does it take to reach Phi Phi viewpoint?
Phi Phi viewpoint is one of the highest viewpoints to go and get the mesmerizing view of the whole island. You will even get to see Phi Phi Leh, Tonsai village and Loh Dalum bays. The view from Phi Phi viewpoint is picture perfect, visit before sunset or at the time of sunrise to get the breathtaking view of the sky and its reflection in the water. It is a 20-30 minute walk to reach and the viewpoint was situated at a height of 186 m. At the top, you will find some snacks stalls to grab some snacks and cold drinks and relax.
Which are the best cycling tours to do in Krabi?
Cycling is another excellent thing you can do in Krabi to go away from the popular tourist places and explore the countryside. The natural environment of the countryside, the muddy tracks and the view in the villages is a nice way to spend time exploring the places of Krabi which is away from the crowd. You can rent a cycle in Krabi town and Ao Nang. Ko Lang very close to the Krabi Town is probably the best place for taking cycling tours passing small villages, rivers, forests and canals. Tup Prik is another village of Krabi best suited to take a cycling tour to get some stunning views of the mountain and the beautiful village areas.
What extra can you provide for couples in the honeymoon package?
We try to make the honeymoon days of the couples as special as we can. We would include everything in your honeymoon package as per your requirements. Apart from that, things that we can specially arrange for the beautiful couple are-
1. Romantic candlelight dinner
2. Special honeymoon tours in Krabi on request
3. Special couple Thai massage to relax and rejuvenate
4. We can decorate your room in the most romantic way with flowers
What is the average budget for the honeymoon trip to Krabi?
The budget of the honeymoon package depends on a few things and a fixed number cannot be mentioned. The price of the honeymoon tour package depends on first of all the number of days you are planning on staying in Krabi. Then comes the place and the hotel you would like to stay in Krabi and any special add-ons you are taking or not. And most importantly, your travel itinerary and what are all the activities you would like to do in Krabi and the places you would like to visit. With Thailand tourism your honeymoon tour package will be on a great deal by covering every aforementioned thing.